The Meditation Energy Enhancement Online Course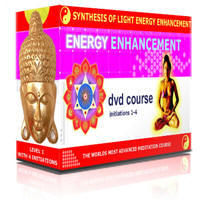 Study in the comfort of your home and learn powerful meditation techniques through our home study online meditation course.

The Energy Enhancement Techniques come from the Worlds most powerful Masters and Religions. These techniques are not usually taught immediately but only taught completely after many years of teac hing with one Master in One Religion. They have been put together, synthesised, after many years of investigation from 5000 Years of Successful Spiritual Technology. Now, Meditation Energy Enhancement Advanced and Techniques are taught completely and freely for the First Time because the world is in need of more Spiritual Energy.
Energy Enhancement is the most Powerful and Speedy way to become Enlightened.

Are You suffering from Pain, Traumas due to Addictions, Anger, Depression, Drugs, Divorce, Bereavement, Multisexual problems, Rape and Sex, Heart Disease and Cancer?
With the Energy Enhancement DVD or Online Meditation Course we can Learn how to Transmute, Totally Remove, Aches and Pains, Traumatic Emotional Memories and Negative Thoughts, to Ground Negative Energies. With Energy Enhancement learn The Mastery of Relationships, Increase our Good Luck, Happiness and Purpose.
ENERGY ENHANCEMENT IS THE ONLY COURSE IN THE WORLD WHICH CAN SHOW YOU HOW TO DO ALL THESE THINGS!!
Benefits
Effective, advanced techniques you can practice at home.
Immediate effects and results from practicing
8 powerful initiations not available elsewhere including many inspirational talks by Satchidanand, Yoga, Pranayama and many articles.
The course features the 8 initiations of Energy Enhancement Level 1 and includes emails sent to you on a regular monthly basis over 2 years taking you through each initiation and stage of developing your energetic muscles!
Learn how to Completely Remove anger, tension stress and other negative emotions. Don't be victim to other's negative attitudes and energy
Clear energy blockages around the body and experience better physical health
Get better balance and stability, both physically and mentally, Practice with friends and family, Start practicing the techniques before you come to the retreats
Speed up the process of Meditation. These Energy Enhancement Techniques will most definitely help in your process. We cannot recommend these Energy Enhancement Techniques enough.
The course includes the following eight initiations in 26 monthly instalments..
Initiation 1: Squaring the circle -: In the first initiation you are taught how to channel and connect with a flow of Intense Spiritual Energy. Learn to sit correctly and experience the energy flow through your body. This technique shows you how to feel the energy connection. Just by maintaining this simple posture in meditation, your evolution is speeded up.
Initiation 2: Circulation of the Energies -: Once you have connected with the energy flow, you will learn to circulate the energy around your body's major meridians and push through any blockages on the path.
Initiation 3: Grounding of Negative Energies -: Learn about Vitriol and Alchemy, The Philosophers Stone. How to transmute and ground all negative energy, pain and negative emotion by using an external source of Energy. This is the powerful alchemical meditation performed, but not understood, by the Master Masons.
Initiation 4: Connecting to higher spiritual energies -: Learn how to connect to higher sources of energy. Never be fatigued or out of vitality again. Remain connected 24/7 and have access to an infinite source of powerful energy.
Energy Enhancement teaches how to transmute Energy Blockages in the Karma Clearing Process. How to Protect yourselves from absorbing them from everyone you meet!!
Remove Energy Blockages
Energy Blockages

are the cause of all physical disease, they cause all Negative Emotions like Fear, Anger and Depression.

Energy Blockages

are caused by Traumas due to Addictions, Anger, Depression, Drugs, Divorce, Bereavement, Multisexual problems, Rape and Sex.

Energy Blockages

cause you to think Negative Thoughts.
Energy Blockages are accidents waiting to happen.

Energy Blockages

Sabotage your lives.

Energy Blockages

are the Karma which cause Bad Luck and Trouble.

NOW UPGRADED FROM THE TEXT WITH BROADBAND DOWNLOADABLE VIDEO TEACHINGS BY SATCHIDANAND
YOU GET WITH THE ONLINE COURSE EXACTLY THE SAME VIDEOS BY DOWNLOAD YOU CAN GET WITH THE VIDEO COURSE ON DVD
ENERGY ENHANCEMENT INITIATIONS AND VIDEOS DELIVERED BY EMAIL DIRECT TO YOU IN THE COMFORT OF YOUR OWN HOME....
!!LEARN THE ENERGY ENHANCEMENT COURSE BY VIDEO DOWNLOAD!!
To speed up. A combination of the Video course and Online Course which will Also move you up a Year with the Online Course ready to Receive the Energy Enhancement Initiations after Initiation Four.