The Meditation Energy Enhancement EBook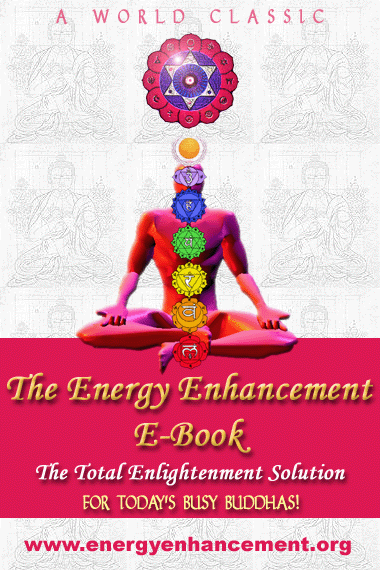 FREE CHAPTER!!!THE CORE ENERGY TECHNIQUES
Buy the Meditation Energy Enhancement E Book
New Upgraded Book, View ONline

Free Downloadable Copy

Free 250Megabyte Spiritual Library

We offer credit card payment facilities through our Secure Agents - PAYPAL
1.Have your Credit Card, e-mail address, and billing address as it appears on your credit card bill near by.
2. Click on the button and fill out the form.
It's easy to Order the E-Book of Meditation Energy Enhancement
To order by SECURE Credit Card Transaction:
3. Your credit card will be billed 20 GB POUNDS
Your Card Statement will be billed in your home currency at the Current Rate.
4.Follow the directions to download your copy of the Meditation Energy Enhancement E-Book.
TO FIND OUT HOW MUCH THE COURSES COST IN YOUR CURRENCY, PLEASE USE THE CURRENCY CONVERTER AT www.xe.com
5. Happy Reading!
---
MEDITATION NCEMENT EBOOK Contents-


Click on the Star at the end of any of the contents to go there.

Introduction *

The Brain and it's Functions with regards to Meditation. *

Chakras and Computer Processors *

Chakras and Communication, the Ancient Symbol of the Tower of Babel or Babble *

The Antakarana *

GooRoo *

The Light of the Soul *

The Integration of the Chakras I *

The following Zen story illustrates this integration of the functions: *

Intellect is not Intelligence *

Pressing the "Mind Off" Button *

3. The Meaning of Ancient Symbols. *
The Yin Yang Symbol and the Five Elemental Paths of Chi, taught in Meditation Energy Enhancement Techniques *

The Fifth labour of Hercules. *

The Worm Ourobouros *

The Zen Circle *

The Swastika *

The Spiral Altar Columns of St Peters in Rome. *

The Whirling Dervishes of Jallaluddin Rumi. *

Mercury *

The Staff of Aescepulus and Jacobs Ladder. *

The Pyramid and the Om or AMEN. *

The Sphynx or Centaur *

The Symbol of St Michael and St George and the Dragon. *

Alchemy and VITRIOL - The secret of the philosophers stone. *

(Picture of Art Card of Tarot Pack) *

The Ankh, Squaring the Circle, the Sword in the Stone and the myth of King Arthur. *

Meditation Energy Enhancement Meditation and The Squaring of the Circle *

A partial teaching of Meditation 1- the Spine must be in Alignment. *

Another Partial teaching on meditation- 2 - Sitting and Grounding in Meditation – The meaning of the Sword in the Stone *

The Sword in the stone *

The myth of King Arthur and the Second Initiation on the path of Enlightenment *

The Second Initiation of the Second Chakra *

The Chalice - The search for the Holy Grail. *